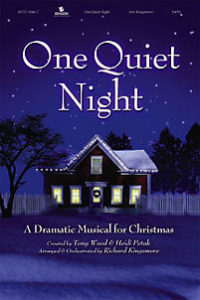 Christmas Musical/Pageant


December 16-17, 2017
This year's Christmas Pageant titled "One Quiet Night" will be presented by our choir and other members of our church.

We are presently preparing for our annual Christmas Musical/Pageant. Many decisions have to be made including: choosing characters, character memorization, choir learning music, costumes, practice schedule, stage setup and construction, script modifications, videoing, sound and lighting. This is a church-wide effort that not only provides a blessing to those viewing the pageant, but also a blessing to those involved with the production.
Please be in prayer daily between now and the date of the presentation for all involved and especially for the Pageant Leadership Team, John Godby, Vanessa Truvillion, and Pat Barrett.

Our desire is that with God's help, we will be able to bring this message to those in attendance with the same passion of those that God inspired to write it.
We welcome and encourage each member to pray about being involved with this pageant so we may glorify our Lord with our hearts by lifting our voices in songs of testimony to His love and sacrifice for all.

Philippians 4:13 "I can do all things through Christ which strengtheneth me."
King James Version (KJV)

Join us Sunday afternoons at 4:30 p.m. and Wednesday nights at 7:00 p.m. for rehearsals. All are welcome!