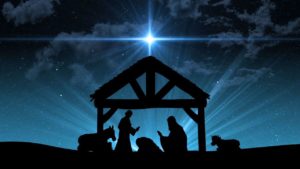 " For unto us a Child is born, unto us a Son is given; and the government will be upon His shoulder. And His name will be called Wonderful, Counselor, Mighty God,


Everlasting Father, Prince of Peace"

Isaiah 9:6 New King James Version (NKJV)
December is a month of celebration of the birth of Jesus. It is my prayer and hope that it will be just that! Please don't get caught up in the festivities of the "season" and leave the birth of Jesus out of the picture. Jesus came that we might have eternal life with Him in Heaven. Let's work to keep Christ in Christmas.
You can help in this endeavor by praying and faithful attendance to church activities, especially on Sundays. We have three special events you can invite your family, friends, and neighbors to attend with you. Our annual Christmas Dinner is scheduled for December 10th following the morning worship service. The following week-end you can bring your friends to the Christmas Musical, One Quiet Night, on Saturday, December 16th or Sunday, December 17th, both at 6:00 p.m. Then on Christmas Eve, December 24th we will celebrate a Christmas Lord's Supper during the morning worship hour.
This is also a time that traditionally we are with family. Cherish the time you have with your family. But don't forget whose birthday party you are attending. Jesus should be the honored guest. My family gathers everyone together and we read Luke 2:1-20. We might even sing a song together about the birth of Jesus. Whatever you do, make sure that you recognize the wonderful gift God gave us on that first Christmas.
Standing on His promises,
Bro. David