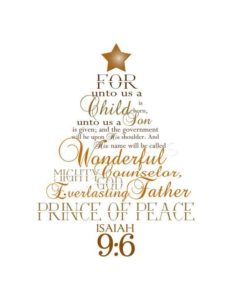 Isaiah 7:14

Therefore the Lord himself will give you a sign: The virgin will conceive and give birth to a son, and will call him Immanuel
John 3:16 For God so loved the world that he gave his one and only Son, that whoever believes in him shall not perish but have eternal life.
Luke 2:10-11 But the angel said to them, "Do not be afraid. I bring you good news that will cause great joy for all the people. 11 Today in the town of David a Savior has been born to you; he is the Messiah, the Lord.
Matthew 2:10 When they saw the star, they were overjoyed.
Galatians 4:4 But when the set time had fully come, God sent his Son, born of a woman, born under the law,
Psalm 72:11 May all kings bow down to him and all nations serve him.
Matthew 2:11 On coming to the house, they saw the child with his mother Mary, and they bowed down and worshiped him. Then they opened their treasures and presented him with gifts of gold, frankincense and myrrh.
John 1:14 The Word became flesh and made his dwelling among us. We have seen his glory, the glory of the one and only Son, who came from the Father, full of grace and truth.
John 16:33 "I have told you these things, so that in me you may have peace. In this world you will have trouble. But take heart! I have overcome the world."
New International Version (NIV)